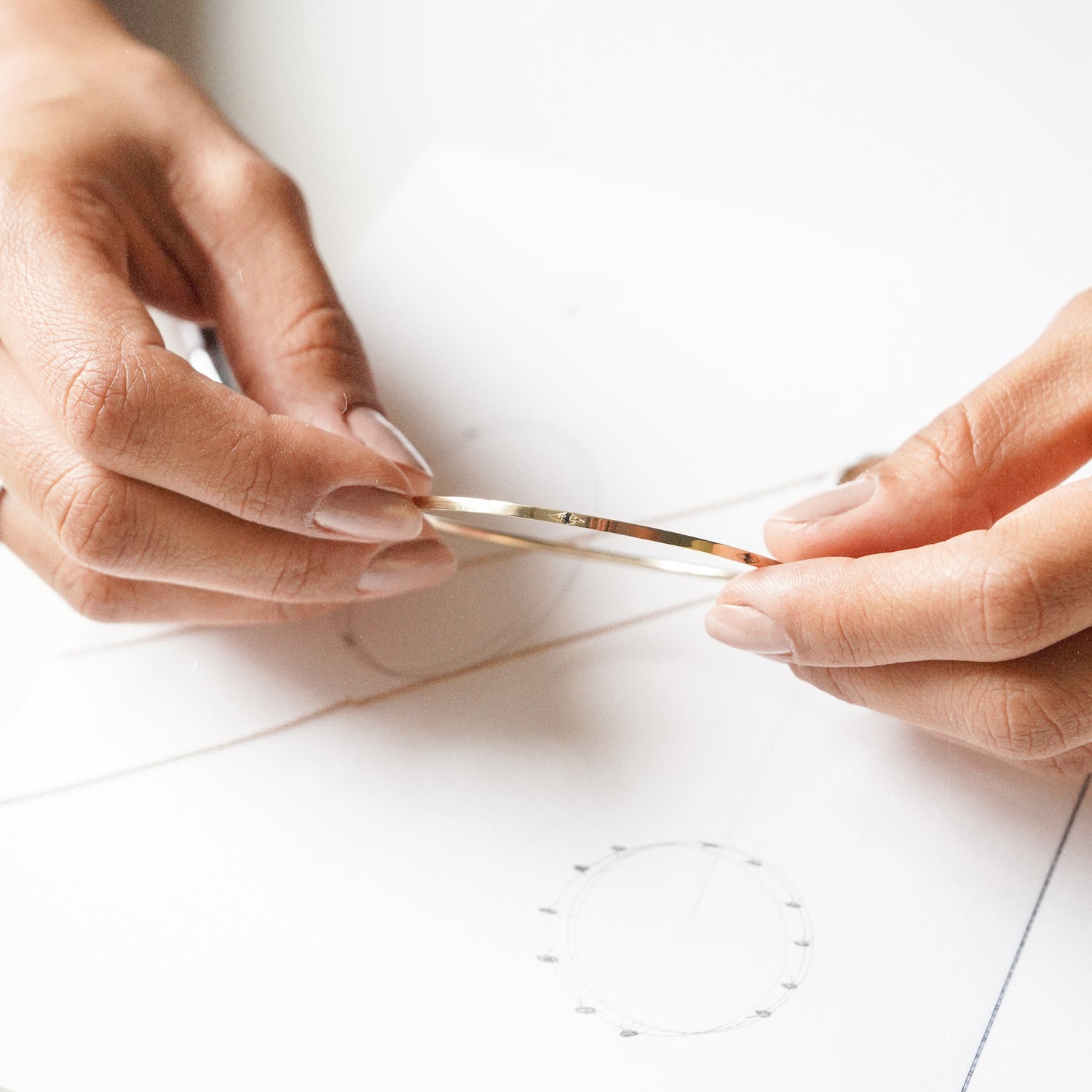 Craftsmanship & Sustainability
In line with the brand's sustainability ethos, we ensure our all our pieces are handmade locally in London, using responsible practices, with recycled solid gold and ethical gemstones.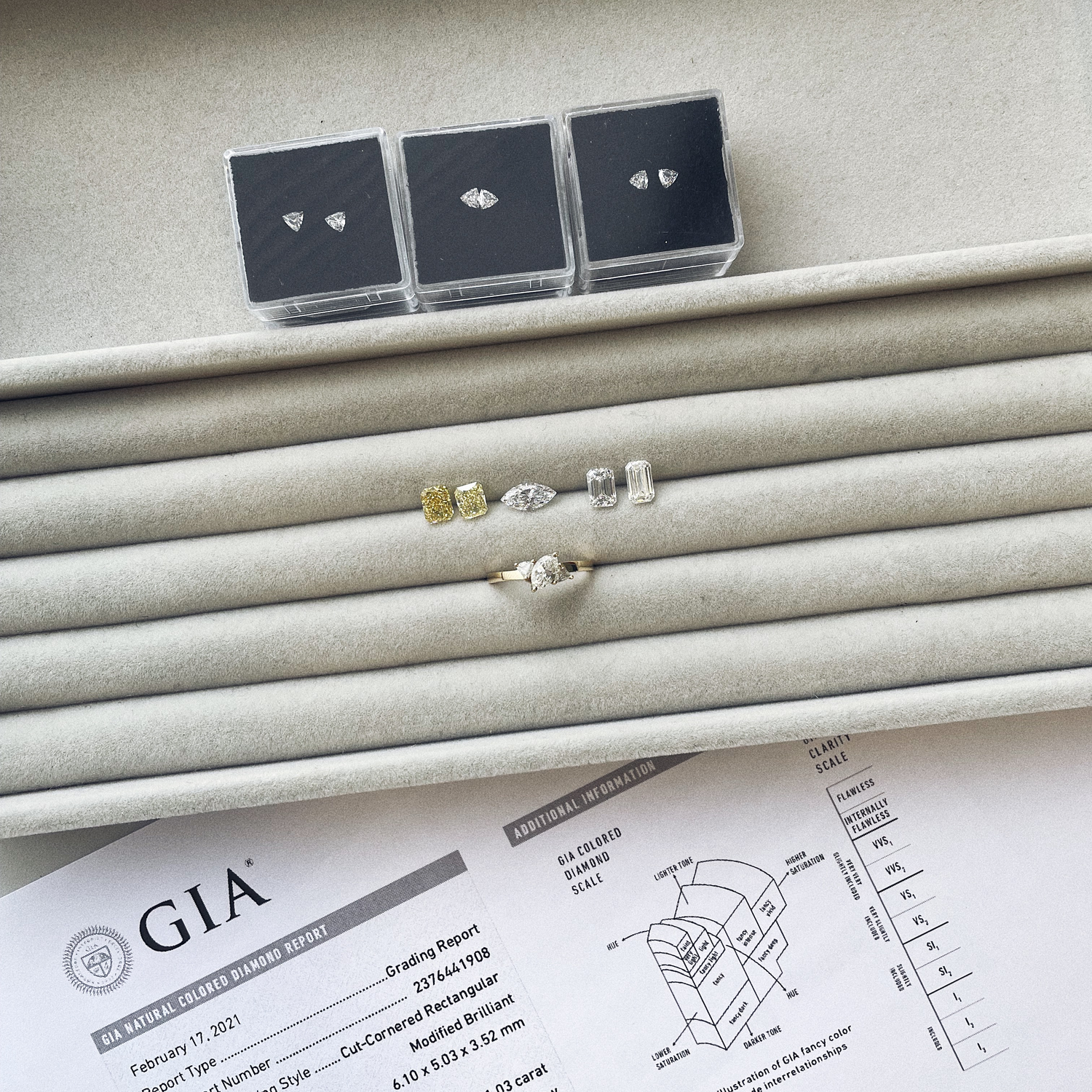 Ethical Diamonds & Gemstones
KIMBERLEY PROCESS - We only source and buy ethical diamonds, that are in compliance with The Kimberley Process. This is an international certification scheme which regulates and helps protect legitimate trade in rough diamonds by prevent the flow of conflict diamonds.
CERTIFIED DIAMONDS - For all bespoke orders, we source ethical diamonds that are provided with a certificate.
FAIR-MINED BRAZILIAN GEMSTONES - A recent alternative to 'fair trade gemstones' is gemstones that are mined in adherence with fair trade principles. This ensures the stones we work with are sourced from mines which have healthy and safe practices and surroundings, as well paying a fair wage.
Sustainability
UPCYCLED METALS - Unlike plated, filled or vermeil, solid gold will last forever. 100% of the gold we use in our jewellery is recycled via a traceable process, allowing us to support responsible mining practices.
HANDMADE JEWELLERY - Every individual piece will always be made/finished by hand, using fine craftsmanship that fuses modern techniques with traditional
goldsmith skills, meaning it will be unique.
ECO-FRIENDLY PACKAGING - Due to its environmental impact, we've made the conscious decision not to use plastic in any of our packaging. You'll receive your order in either a FSC-certified cardboard box or Fairtrade cotton pouch that we encourage reusing to keep your jewellery safe.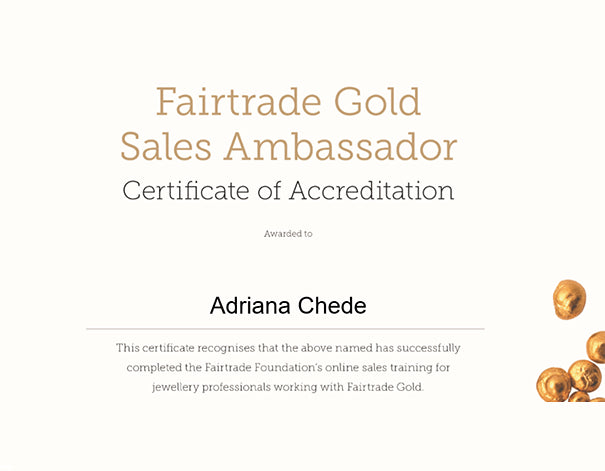 Fairtrade Gold Ambassador
In 2020, Adriana earned a Fairtrade Gold Sales Ambassador certification.
As part of the brand's sustainability future, we promise to keep improving our processes, packaging and supply chain.
Browse The Shop
Soulmade Jewellery
➡ 100% Recycled Gold

Our pieces are built to last, using solid 9ct or 18ct gold, so the colour won't rub off or change over time. We source it from London suppliers that recycle the metal in their premises, which is the most sustainable practice — a closed loop.

➡ Ethically-sourced Diamonds

We only source diamonds that are compliant with The Kimberley Process -- an international certification scheme which regulates trade in rough diamonds.

➡ Local Suppliers

We source our gold and most of our gemstones from London suppliers who are trusted within the trade.